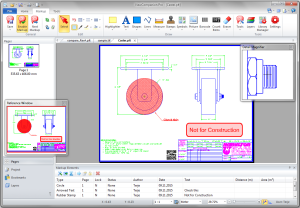 ViewCompanion Pro is a powerful, fast and user friendly multi-format file viewer.
ViewCompanion can view, print and convert PLT, Adobe PDF, Autodesk DWF, CGM, TIFF, CALS, HPGL/2 and many other formats.
ViewCompanion can convert your files to PDF, PDF/A, DWF, DXF, TIFF, CALS, JPEG and more.
Use the markup feature to add stamps, symbols, rectangles, dimension lines, measurement areas, notes, pictures and more to your file.