This update provides both new features and fixes many reported issues.
Below is a list of the most important changes in this update:
Added Barcode definition to the Markup XML format.
You can now add barcode elements to the converted file for example by using the /lxml command line parameter, or by selecting a markup file in the Batch Conversion dialog.
Added option for setting maximum radius for each arc in a revision cloud.
Insert and remove points in polyline and polygon type markup elements.
When drawing scale or unit is changed you will now be asked if all existing markup measurement texts should be updated to reflect the new settings.
Printing a multipage with different page sizes always used the scaling for the first page if scale to fit was enabled. Each page will now be scaled individually to fit the paper size.
Added option for enabling taskbar interaction. If taskbar interaction is enabled a separate thumbnail will be displayed for each open document.
Added a setting to open PDF files saved using "Save As" in the default PDF viewer.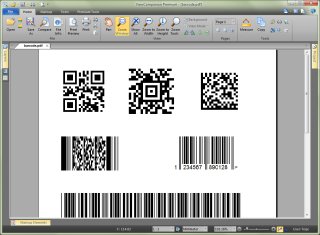 Barcodes created with the new Markup XML defintion.
For ViewCompanion Premium there are additional changes:
Added new tools for PDF/A conformance. Both batch and single file conformation is available. This tool allows you to conform, or convert, an existing PDF file to PDF/A standard.
Added a new batch PDF to CAD tool that can be used to convert a list of PDF files into CAD format, for example Autodesk DXF. If the source PDF file contains multiple pages, you can either convert to a multipage CAD file, or create one CAD file per page. Please note that not all CAD formats support multipage output.
Rotate page now works for PDF files (rotate 90,180,270). This tool allows you to rotate each page in a PDF individually.
A complete list of changes for all editions can be found here: