Software Companions delivers three different plot file viewers: ViewCompanion Standard, Pro and Premium. All of them can view, print and convert HPGL-2, HP-RTL, KIPGL and Calcomp formatted plotter files.
Using ViewCompanion you can:
View plotter files and other formats.
Convert to

Adobe

PDF, TIFF, JPEG, CALS, DWF, DXF and other formats.
Print to all plotter or printer devices supported by Windows.
Do precise measurements on the drawing.
Compare two files.
Use the command line interface for conversion and printing.
Batch print and convert.
Add markups like text, stamps, pictures, symbols, polygons etc.
And much more...
Please read the different product descriptions for more information:
Read more about ViewCompanion Standard
Read more about ViewCompanion Pro
Read more about ViewCompanion Premium
ViewCompanion Family Comparison Chart
A fully functional evaluation copy can be downloaded from our web site. The downloaded product will run in evaluation mode for a period of 30 days. After this period you're required to purchase a license, if you want to continue to use the product.
Download a 30-days trial now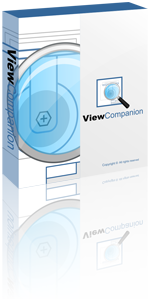 Compatible with Windows
XP, Vista, 7, 8 and 8.1.
Both 32- and 64-bit.