Gerber Viewer and Converter
View Gerber, ODB++ and Excellon files
Convert to PDF, DXF, DWF, RS-274X and more
GerbView can view, print and convert Gerber, PDF, ODB++, Excellon, HPGL-2 and other formats.
GerbView supports both RS-274D and RS-274X Gerber formats.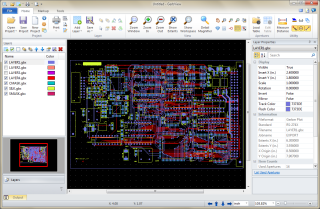 With

GerbView

you can:
Convert your Gerber files to

Adobe

PDF, DXF, TIFF, JPEG, CALS, DWF, PLT and other formats.
Convert your old RS-274D files to RS-274X extended Gerber format.
Convert multiple Gerber layers to a single multi layered PDF, DWF or DXF file.
Convert multiple Gerber layers to a multipage PDF, DWF or DXF file.
Use the built-in PDF to CAD feature to convert your PDF files to Gerber RS-274X, Autodesk DXF or HPGL/2 formats.
View, print and convert ODB++ files.
Measure distances, areas and perimeters, with our snap to pads and tracks.
Do scaled or fit to paper print.
Print to all printer and plotter devices supported by Windows.
Use poster mode for printing big format drawings on multiple sheets (e.g.: A4 / Letter).
Use markup tools to add text, barcodes, lines, polygons, images and other elements.
And much more!
Please read the product description for more information:
A fully functional evaluation copy can be downloaded from our web site. The downloaded product will run in evaluation mode for a period of 30 days. After this period you must purchase a license, if you want to continue to use the product.
---
Do you want to add conversion of Gerber files to your own application, or WEB server?
ScConverter may be what you're looking for; it can easily be integrated using either COM, or ordinary DLL import.
scConverter can convert Gerber, DWF, PLT, CGM, CALS, TIFF and other formats, to many different output formats which includes PDF, DXF, TIFF, PNG, JPG and DWF.
Please read more about available input and output formats on the product information page: