This is a major update that provides both new features and fixes many reported issues. Below you will find a list of the most important changes in this update:
New flat styled GUI with additional application themes, including Microsoft ® Office White, Colorful and Black. You can find pictures of all the available themes here.
You can now save reports in Excel Workbook format (XLSX) from markup list, measurement summary and measurement result dialogs.
Added JBIG and JPEG2000 to the list of supported PDF compression methods.
Added Close All Except This option to the tab context menu.
Now always use version 1.6 for converted PDF files.
Added support for UTF8 and UTF16 Unicode text files.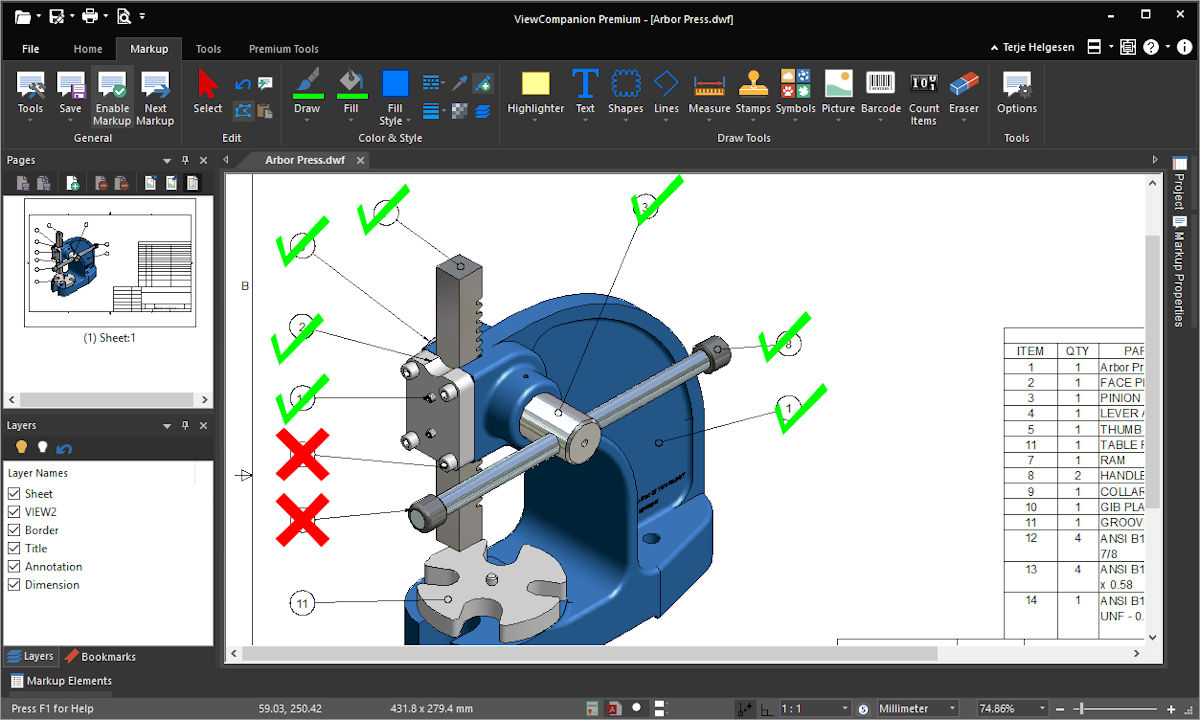 ViewCompanion with black theme active and
new shape elements added to the drawing.
Added a new separate multi line arrow tool. Two-point arrow type is no longer an option, but a separate tool.
Element type name can now be turned off in markup list.
Added lock all markup elements option (Markup tools->drop down).
Added editing for counter elements. You can now move or delete an existing counter node.
Added insert node for counter elements.
Vector layer states are now stored in the markup file, if save currently displayed portion is enabled.
Added new options to Markup XML Barcode definition: imagerotation, barcodeincludetext and barcodelabel.
Added additional counter types: checkmark, outlined circle and cross.
Added area height, negative measurement, ID and include volume text options to measurement area element.
Added a new predefined shape element type. Currently two predefined shapes are available: Accepted and Rejected.
Toggle visibility of PDF annotations.
Display PDF certificate information.
And more!
For ViewCompanion Premium there are additional changes:
Added PDF Optimize tool.
Added deskew by selecting a two-point line in the image file.
Added support for viewing and converting Intergraph Raster files (CIT, COT, RGB and TG4).
A complete list of changes for all editions can be found here: